As a full-service marketing communications agency, we believe that our clients are best served through the type of long-term working relationships that are only possible through the use of in-house resources.
STRATEGIC LEADERSHIP & DEDICATED TEAMS
The leadership team at Nelson Schmidt plays an active role in defining, supporting and reporting on key metrics with our client stakeholders. For new client engagements, senior management is directly involved to shape an effective plan(s) to reach all identified business goals and marketing objectives. Upon completion of this strategic phase, the shared resources of NS are applied against planned/approved work under the management of a single point of account service.
BRAND STRATEGY & DEVELOPMENT
We have extensive experience defining, developing and delivering brand strategies for companies like Toyota, ADP, McKesson, Club Car, Polaris and Speed Queen to name just a few. From the discovery of key market and customer insights through research and analysis to the formulation of complete architecture — brand identity, positioning, value proposition and messaging — we have a proven process to build a lasting foundation. These fundamentals allow our team and yours to flawlessly execute brand strategies with the development of impactful and effective creative delivered through integrated plans across every channel — for all audiences.
Through our in-house research and design and the use of partner resources for data collection, analysis and reporting, we help our clients gain the customer insight and competitive understanding required to manage brands successfully. We lead research efforts that address the critical issues our clients' marketing programs must solve. These include market opportunity analysis, awareness, perception and attitude studies, concept testing, competitive audit and customer needs analysis. Our program experience encompasses everything from local surveys and focus groups to comprehensive national studies with statistically reliable data analysis. Plus, some partners offer sophisticated tools and online platforms to help us scale research efforts locally, nationally and globally.





Engaging audiences when, where and how they want to be engaged is how results are produced. And at Nelson Schmidt, when, where and how just happen to be our specialties.






We follow a defined approach when developing paid media solutions. First, we implement research to fully understand the target audience and how they consume specific media platforms (Print, Digital, PPC, Social, Email, etc). We then identify a custom media mix to not only reach the audience, but drive meaningful engagements. This insight is then directly connected to predetermined KPIs prior to applying a media-neutral approach to the development of paid media solutions.
We've created, planned, placed, tested and evaluated the effectiveness of countless advertising and marketing campaigns to engage domestic and international audiences. Our in-house team, including trade, digital, search and 1:1 specialists, has decades of experience with the latest media planning tools, providing insights and optimization to positively impact our clients' businesses.
DIGITAL DESIGN & DEVELOPMENT
With Nelson Schmidt, you not only get a full-service digital partner with a world-class grasp on today's technologies and their advantages, you also get a pioneer who understands and embraces the possibilities of tomorrow.
Website Design and Development
We're dedicated to delivering beautiful, results-driven web properties as part of a larger digital marketing strategy. Each project is executed using the most powerful tools and techniques available. From HTML5 and Mobile/Cross-Browser development techniques to the latest JavaScript MVC frameworks like Angular, our team has the expertise to execute any creative vision. By backing each web property with a powerful CMS, such as Umbraco, SharePoint, Sitecore or WordPress, we ensure rapid development, high availability, scalability and long-term maintainability.
Our developers are tightly integrated with your digital marketing team from day one, performing research on current site analytics, competitor site UX and UI, and current search trends to help inform and guide the execution of each web property.
Our infrastructure team works closely with our developers as each project begins, establishing the test suites that will be used to validate builds. The team also scopes and builds the infrastructure required to run the site once it is completed. Teaming developers with infrastructure operations early on allows us to build an environment capable of being scaled to meet visitor demands as well as leverage tools, such as Labtech and Selenium, to ensure each web property is always operating nominally.
Search Engine Optimization
Strong search results begin with well-written and focused content built to be easily digested by visitors and search engines alike. Our technical team uses comprehensive tools like MOZ Pro and Raven Tools to build and track search optimization campaigns and assist the entire digital marketing team in reaching campaign goals.
Once a baseline has been established and search campaign goals defined, our technical team works closely with the entire digital marketing group to recommend and implement changes targeting continual incremental improvements.
In many cases, additional techniques like leveraging user-generated content (UGC), social curation platforms and mobile applications are used to bolster and improve individual product/service category page search results.
E-Commerce Lead Generation
Our team is experienced in building e-commerce leads through multiple channels: traditional search optimization, search marketing (PPC), paid social, web display, television, radio, print and reseller channels, such as Amazon, eBay and others.
With strong relationships with both publishers and programmatic partners, we develop many first-to-market media solutions that help our clients break through the clutter and achieve their marketing objectives. Examples of these programs include dedicated Native Content units, Integrated Content Sponsored Sections and high-impact display units. We have also been highly successful in the execution of Programmatic 'Look-alike' modeling — the practice of modeling those that engage/convert — and targeting similar individuals across the Internet based upon those behavioral characteristics.
We also have a systematic approach to effectively and efficiently drive conversions through a 'test/measure/optimize' model that has been highly successful across client verticals. This model results in improved performance and increased ROI through the optimization of placement and message. We are constantly in market, finessing our media programs to optimize conversions, engagements and sales. Our media programs are never stagnant, always evolving and designed to exceed the defined KPIs.
.NET Capabilities
More than half of our development projects are delivered in Microsoft .NET, and our team is capable of supporting both the most current .NET web properties as well as legacy platforms.
Experience With Content Management Systems
We have supported almost every content management system under the sun for some period of time, including, among others, Sitecore, Umbraco, WordPress and SharePoint.
As a modern and comprehensive public relations partner, we help our clients gain insight into the relationship their brands have with customers and the role they play for the solutions they seek.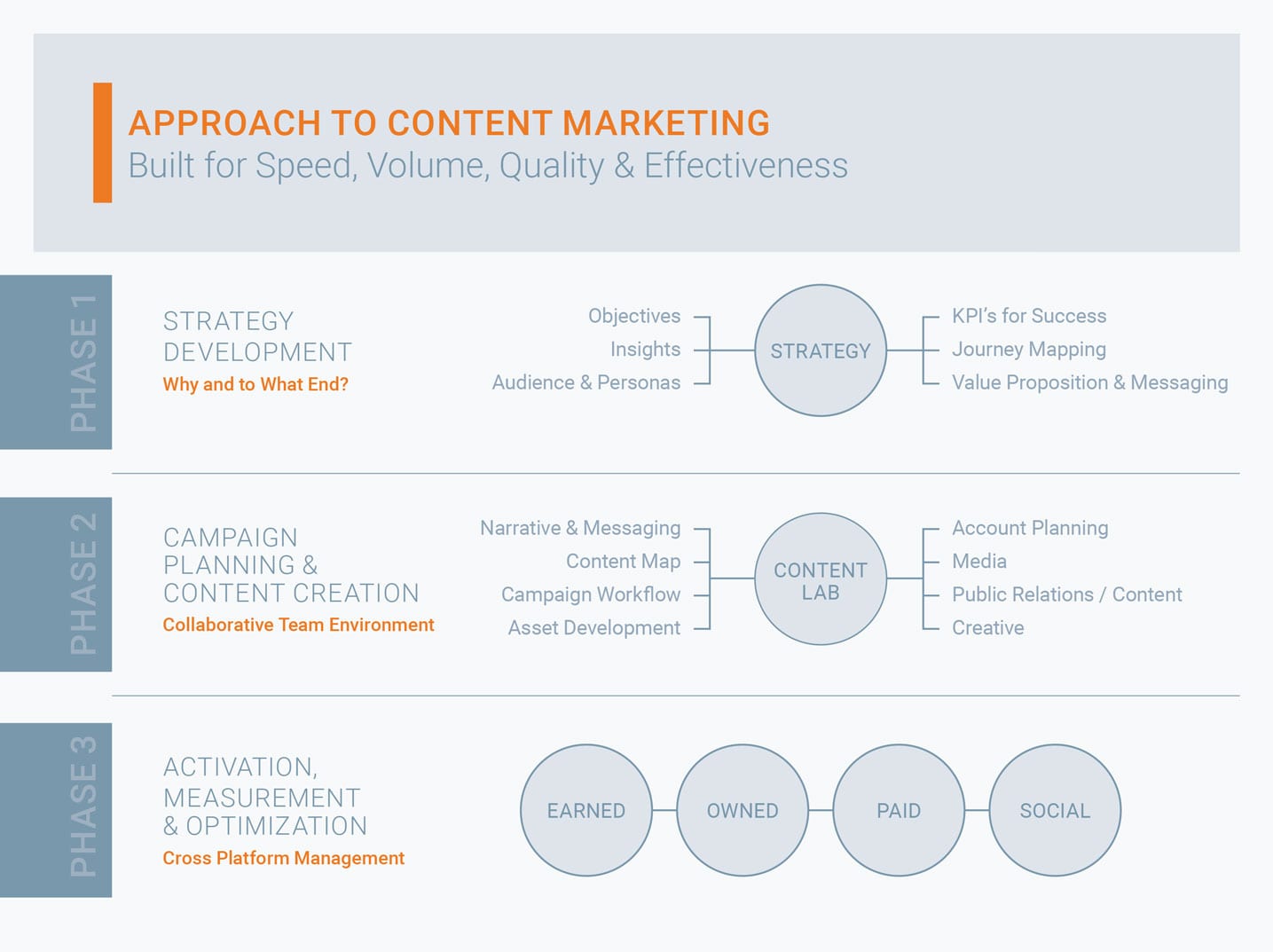 With a thoughtful content strategy complemented by other agency disciplines—including creative, digital and paid media—crafted around appropriate value propositions, we help our clients connect rationally and emotionally to win customers' hearts and minds.
While media relations is a core competency at NS, the reach of the public relations discipline goes far beyond writing and pitching. Today content is coming from everywhere in every format, and anyone with a connected device is a publisher. We have developed a world-class PR practice that develops rich original content for many different types of media, repurposes original and earned content through new publication platforms and amplifies conversations through social media. This team helps ensure that our clients are leading the conversation to influence purchase decisions and deliver measurable results.
Experiential and event marketing is more sophisticated than ever and is still a vital part of our considered purchase customers' marketing strategies. Nelson Schmidt's event marketing services consider the entire customer experience before, during and after a live event to maximize return and build lasting relationships. We create campaigns that drive event participation and immerse customers in branded experiences that build lasting relationships. And because most events bring together a diverse set of target audiences, we can surround these important face-to-face opportunities with public relations, sales training, direct marketing and digital services to make sure your event marketing investments deliver a maximum return.
CRM & MARKETING AUTOMATION
You can look, but you won't find people as passionate about CRM and marketing automation as our 1:1 marketing team. They are experts in all facets of marketing automation technology, including platform integration, campaign mapping and strategy, segment targeting, lead management, conversion optimization, URL tagging and attribution and CRM implementation.
In addition, our team is platform-agnostic and has the capability to adapt to our clients' platforms and CRM systems in both Admin and User roles. They are highly experienced with Act-On, Salesforce Pardot, Eloqua, Dynamics CRM and Salesforce CRM to ensure optimum integration across platforms and provide platform-specific recommendations. We build around sales funnel visibility to show ROI and measure real-time campaign performance against the stated objectives.




A consistent brand identity is paramount to achieving marketing goals. Understanding whom you're communicating with and how you're speaking to them is essential to developing a long-term brand personality and positioning. We dive deep into our clients' brands to reveal their core values and their points of difference in the market. And as authors of numerous brand platforms, brand positioning statements and strategic plans for many of our clients, we hold dear the value of that work. We put a lot of emphasis on brand development when we partner with our clients, and we're not timid when it comes to keeping ourselves and our clients in check if anyone strays from the course — we are brand stewards.
Aligning creative campaigns with an established brand and reinforcing its position is the hallmark of a good campaign. A brand's strategy and corporate identity — and how both are executed — are the realization of all the foundational work we help you establish as your agency partner. We believe that brands go deeper than what companies make. It's their essence. It's who they are. And it may go without saying, but the best brands maintain their strategies, yet remain flexible enough to respond to changes in the market.
SALES SUPPORT & PROMOTIONS
Nelson Schmidt offers deep expertise to help put your brand to work in the field. Within the scope of your overall marketing strategy, we excel at developing comprehensive marketing programs to enhance the success of our clients' sales organizations. From self-help tools and web applications to training and product launch support, NS understands how to inform, engage and enable sales teams and channel partners to put global programs to work in regional and local markets. We offer an unmatched level of channel marketing expertise. Many of our clients dedicate a majority of their marketing efforts to maximize their external channels' abilities to promote and sell products to local, national and global end-users. This includes distributors, dealers, VARs, resellers, partners, alliances and independent agent networks. Successful programs include channel partner recruitment, regional market development, training and education, local sales and co-op marketing tools and individualized channel partner promotion plans.
From attracting and nurturing interest to converting and retaining customers, 1:1 communication strategies are vital for our considered purchase clients. Nelson Schmidt's 1:1 marketing team shapes campaign strategy around the customer journey, defines content strategies around on personalized needs and applies marketing technology to build, hold and grow meaningful relationships with customers. We're well versed in all CRM, marketing automation and analytics platforms. We've invested in the data, tools and infrastructure to handle direct marketing programs end-to-end through all digital and traditional channels right down to our in-house direct response center, where we can offer direct human contact and qualification to any demand creation effort.