RECOGNIZING OUR AUDIENCE'S RESILIENCY.
Wisconsin's more than 450,000 small businesses are the heart of our state's economy and the soul of our communities. Small business owners were hit hard by the COVID-19 pandemic, forced to face unrelenting adversity like never before. But their tenacity prevailed, finding new strengths, hidden powers and the courage to do the impossible. We worked with the Wisconsin Economic Development Corporation (WEDC) to recognize the remarkable resiliency of these owners and let them know WEDC was there to support them on their post-pandemic path to recovery.
Hearing the extraordinary pandemic-survival stories of real business owners led to the idea that their voices needed to lead this effort.
MAKING IT MORE PERSONAL THAN PROMOTIONAL.
We knew many small business owners didn't understand who WEDC was or how they could help. In fact, large state organizations like WEDC were often viewed as unapproachable to these small businesses. That meant to make our message believable we had to be more personal than promotional. So we traveled throughout the state and captured the stories of real small business owners, learning how they survived the pandemic and how WEDC helped them along the way. Sharing these tenacious tales was an incredibly authentic approach to communicate the resources, programs and support available through WEDC.
We turned the real-life stories of these small business owners into both feature and how-to stories that inspired other business owners on their own paths to recovery.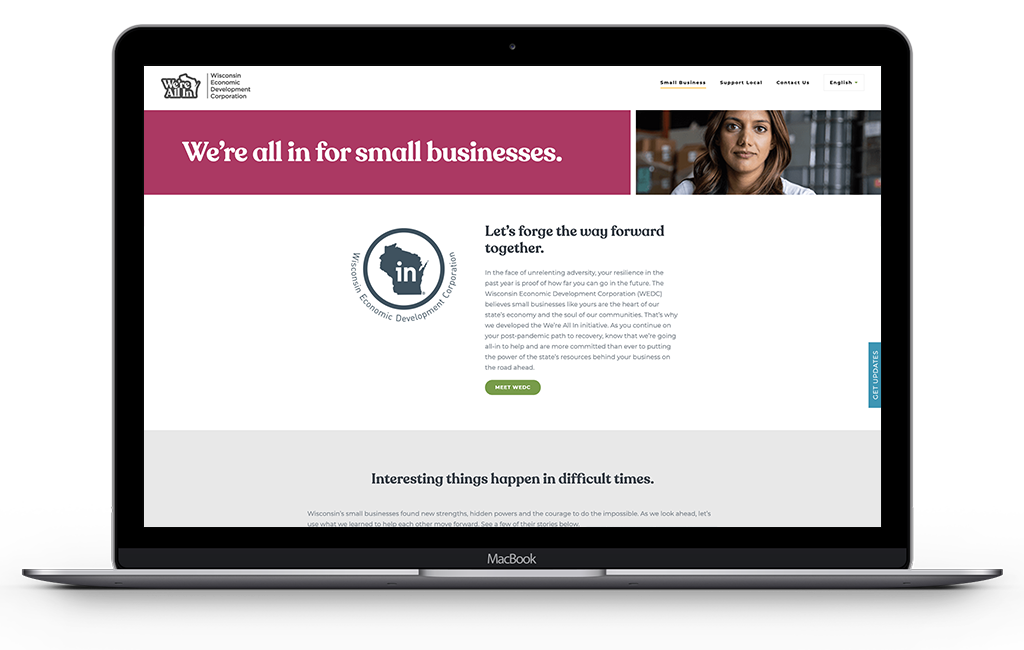 USING EMOTION TO EVOKE ACTION.
Our highly personal and emotive approach resonated with Wisconsin's small business owners. In less than a month on a limited budget, our campaign-specific website achieved an impressive 10% conversion rate, which is unheard of in this category. This remarkable level of conversion in such a short time was a result of the campaign's relevant and inspirational messaging.
FEATURE STORIES

HOW-TO STORIES