It's no secret that we live in a global economy. Nor is it a secret that deciding to launch your brand globally can lead to great growth for your brand. However, knowing these two factors is not enough to press the button on the launch pad. Before beginning your brand's global marketing efforts, take these five steps for a smooth ride.
Know Your Competitive Set
I'm sure you are aware of who your competitors are locally, but the rest of the world is a whole new playing field. It is important to know who you are up against. Learn who the players are and study them. Examine how they approach the market, where they are marketing and what their main messages are. By grasping a better understanding of the brands and businesses that yours is up against, your brand has a better opportunity to thrive in the new market.
Understand Your Brand Awareness
Is your brand starting from zero, or is there some residual awareness from local marketing? The answer to this question will help you determine the level of investment in brand building marketing tactics that must take place. For one of our clients launching in the US with little brand awareness, our primary recommendation was media relations because we were able to tell their story and build their reputation in a targeted, cost-effective manner. For a client on the opposite end of that spectrum, our recommendation would be different as their needs are different. Understanding how your brand is acknowledged in the part of the world you're expanding to allows you to ascertain where your marketing dollars are best spent.
Study Your Audience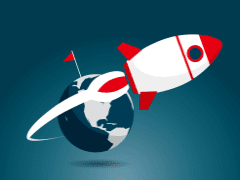 The world is a diverse place! The people, their lifestyles, needs and desires are all relevant to their place in the world. Beyond who they are, how they will discover your brand will be different as well. The way your organization is used to marketing may not be effective for how this new target audience consumes information. Be sure to know what resonates with your audience before developing the go-to-market strategy, and the supporting marketing tactics.
Determine The Best Timing
Timing is always important, especially when launching a brand in a new country. Before deciding on a launch timeframe, consider leveraging an existing industry event to launch your brand. For example, you can make a bigger splash, and reach both your target audience and media, if your brand launch aligns with an industry trade show. Entering the global market at the right time can make your brand's presence not only relevant, but newsworthy as well.
Measure Your Activity
Regardless of your go-to-market plan, it is important to determine how you will measure success before launching your brand and to be realistic with what is being measured. The sales team may be looking for a huge influx of leads, but during an initial brand launch leads may take a bit longer to achieve. Instead, look at how you've impacted brand awareness and perception among your target audience.
Of course there are many other considerations to think through when launching a brand globally; this list is just a starting point. If you would like to discuss the other considerations, let's talk. Launching global brands is one of our specialties!
Originally Published 2017