As part of Milwaukee Downtown BID 21's "Comeback Cuisine" initiative, the Café was featured as a program partner
MILWAUKEE – June 18, 2020 – The 600 EAST Café, owned and operated by Dan Nelson Jr. and located in the same building as Nelson Schmidt Inc., was featured on Fox 6 News as a partner of Milwaukee Downtown Business Improvement District (BID) 21's Comeback Cuisine program.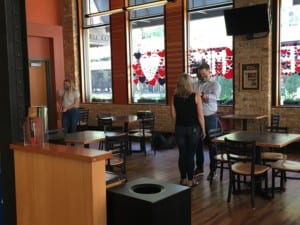 "The Business Improvement District has been integral in helping businesses in the central business district of Downtown Milwaukee  find ways to survive during the pandemic". said Jill Ruffing, General Manager of 600 EAST Café. "It's great having partners like this to assist in any way possible as we all figure out how to survive".
A Program That Started with an Idea
The Comeback Cuisine idea was the brainchild of Lyle Landowski of Colliers International. Lyle knew he wanted to help struggling cafes and restaurants in the area where their offices were located in the 833 E. Michigan building. He brainstormed the idea with Milwaukee Downtown who immediately brought the idea to life with the "Comeback Cuisine" program. Promoted on their website, Milwaukee Downtown is looking to serve 3,000 lunches.
Watch the video here.
Media contact: Julie Ferris-Tillman, 414.244.0210, [email protected]
ABOUT NELSON SCHMIDT INC.
We Deliver Customers.® Nelson Schmidt Inc. is an independent full-service marketing agency with offices in downtown Milwaukee and Madison, Wisconsin. The agency is one of the Top 200 Marketing Agencies of 2020 according to Chief Marketer and serves U.S. and international clients within select considered purchase industries. Nelson Schmidt is a member of MAGNET, the Marketing & Advertising Global Network, ANA and PRSA. For more information visit NelsonSchmidt.com.