Paragon Awards recognize Nelson Schmidt for their work in public relations
MILWAUKEE – May 28, 2020 – Nelson Schmidt Inc., a leading independent full-service marketing agency, has been recognized by the PRSA of Southeast Wisconsin through the Paragon Awards. The honors recognize work on behalf of clients Wisconsin Economic Development Corporation (WEDC), Panduit, and Maytag Commercial Laundry. The agency received a total of four awards:
Award of Distinction – Programs, Content Marketing, "Panduit Safety Content Campaign"
Award of Distinction – Programs, Media Relations, "WEDC Familiarization Tour"
Award of Excellence – Tactics, Events and Observances, "Maytag Jakarta Distributor Event"
Award of Excellence – Programs, Social Media, "WEDC Wisconsin Stories"
"We're proud to have our public relations work recognized in this way," said Julie Ferris-Tillman, director of public relations, Nelson Schmidt. "The creativity and connection to audiences that is core to our practice drives success for our clients; honors like this are a welcome bonus."
Award of Distinction – Programs, Content Marketing, "Panduit Safety Content Campaign"
Panduit is a leader in safety and recognized for product innovations, safety managers don't fully understand the need to upgrade their systems with advanced Prevention Through Design (PTD) technology to mitigate risk.
The foundation of our plan was to partner with a credible third-party safety expert. Co-authoring content with a safety authority would elevate Panduit's position as an educational thought leader, and most importantly, get the right information into safety manager's hands to significantly reduce the amount of dangerous electrical incidents in the industry.
The campaign resulted in more than 1,000 prospect leads, far exceeding the publication partner's benchmarks for similar campaigns. 140 leads could be instantly scored to automated qualified lead status due to custom qualification elements added to the program.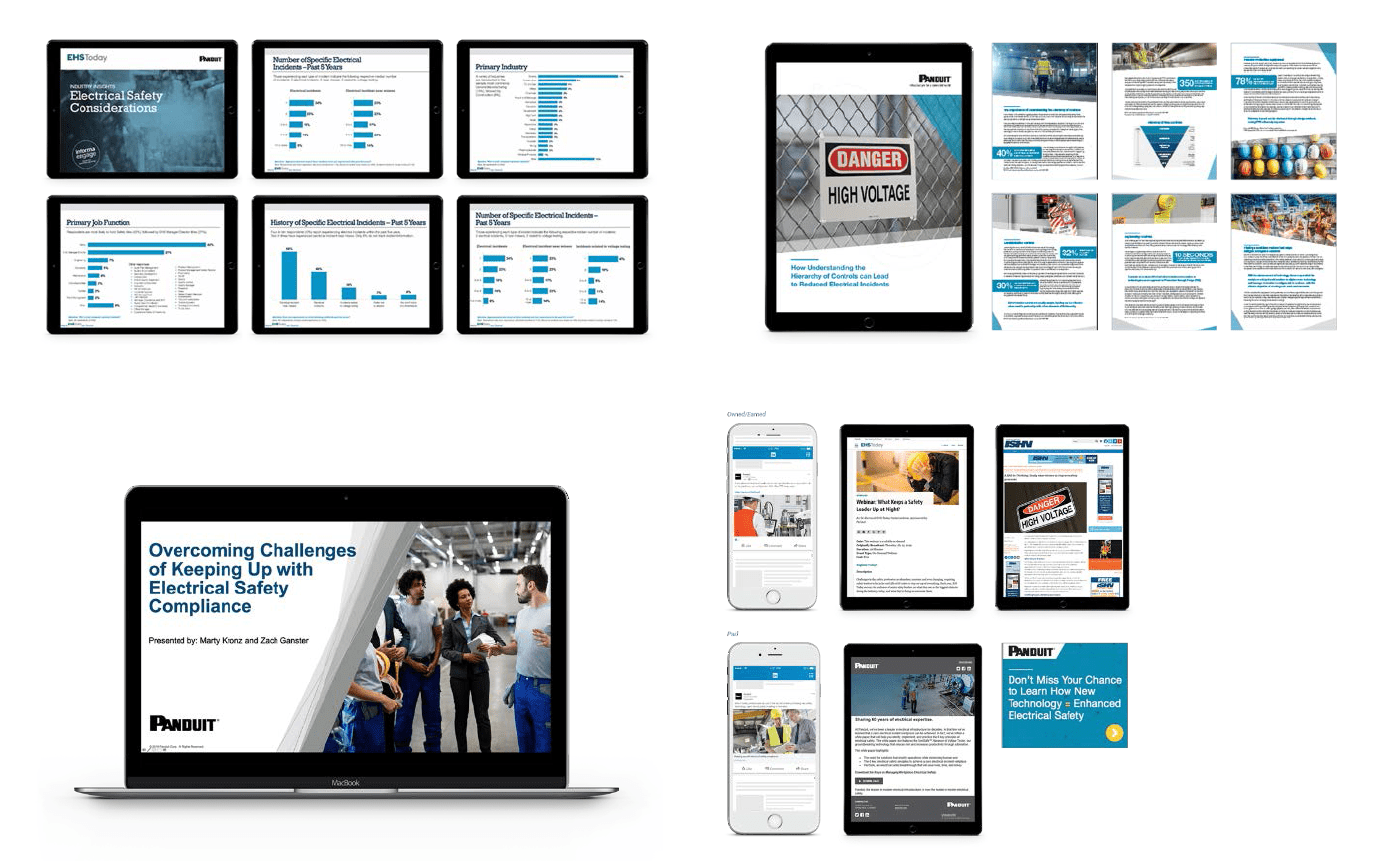 (Top Right: Coauthored content, Top Left: White papers
Bottom Right: Webinars, Bottom Left: Paid and owned media examples)
Award of Distinction – Programs, Media Relations, "WEDC Familiarization Tour"
We designed the Familiarization Tour for the WEDC to increase out-of-state millennial awareness of Milwaukee's development, livability, affordability and job market by hosting reporters in the city to earn targeted national media coverage.
Some key tactics of the event:
Targeted media featuring writers from outlets located on each coast and other millennial "hotbeds"
Partner with Milwaukee-area businesses and community leaders to create an experience for writers that communicated the whole of Milwaukee – both its successes and challenges
Devise an itinerary that aligns with the Wisconsin Economic Development Corporation's strategic goals of millennial attraction by including tour stops showcasing Milwaukee's entrepreneurial opportunities, world-class dining options, affordable cost of living and revitalized downtown
Increase impact of the tour by booking attendees on local podcasts to share their experience in the city
The Familiarization Tour earned significant coverage:
Six placements in targeted outlets located in New York, California and Tennessee with a potential reach of 9,337,190
2,429 Facebook shares of tour content by followers of tour outlets
Six stories had "Milwaukee" in the article headline. One positioned the city name in the sub-heading
All articles spoke to the Wisconsin Economic Development Corporation's intended key messages of Milwaukee's commercial development, livability, affordability and fertile job market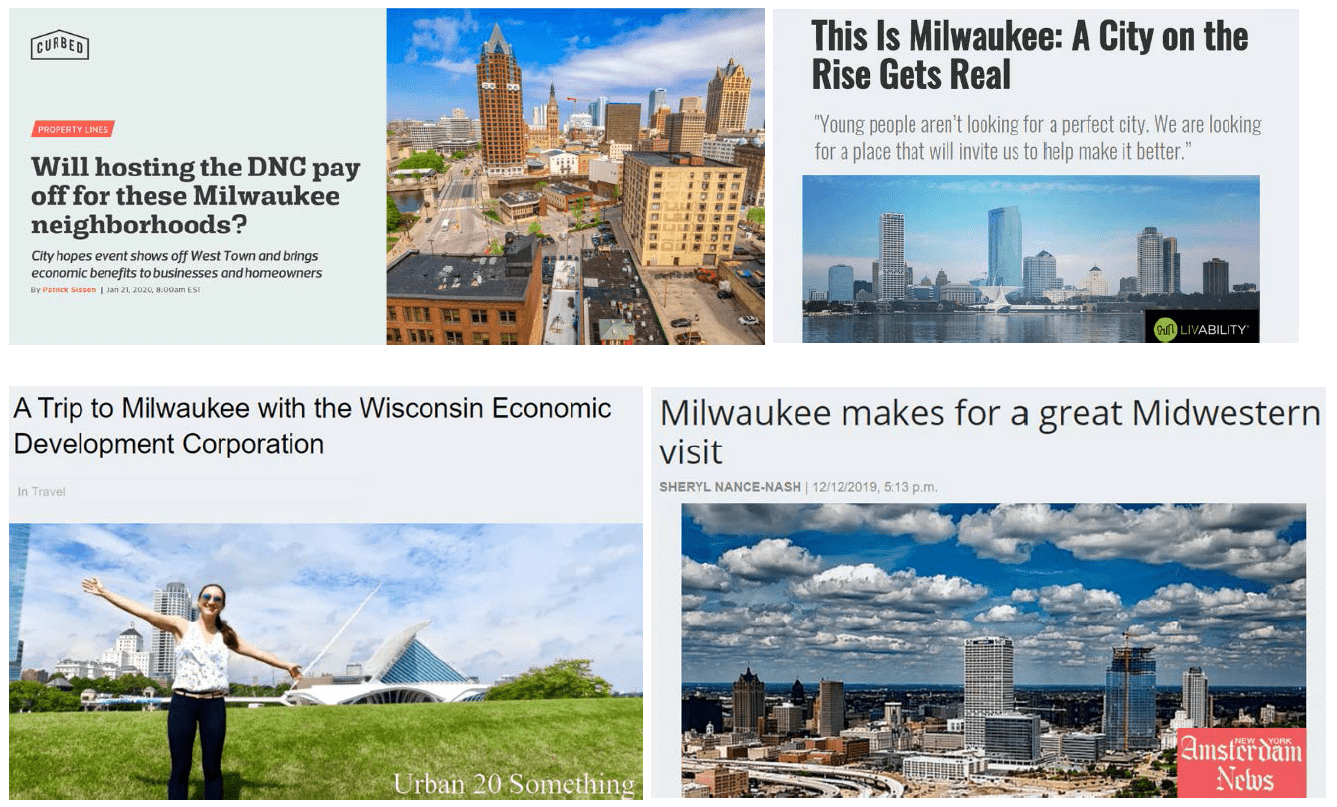 (Various press clippings from the Familiarity Tour)
Award of Excellence – Tactics, Events and Observances, "Maytag Jakarta Distributor Event"
Successfully planning and executing this international event required our PR team to identify people in the APAC region who could serve as our local action team. We enlisted a Nelson Schmidt employee located in Hong Kong as the point person, and then worked within our MAGNET Global agency network to align a Jakarta-specific team that could help activate our plans locally.
With more than a decade of global commercial laundry experience, Nelson Schmidt knows the international editors in this category intimately. Our PR team used these deep relationships to build the media relations plan, get the media to attend the Center of Excellence grand opening event and secure important placements.
We also used our deep relationships in global commercial laundry to build a distributor invite list and successfully get key APAC-region distributors to the event. This was a crucial component of our goal of recruiting new APAC distributors.
Our PR team built the speech, interview questions, shot list and other day-of elements at our Milwaukee headquarters, then used our APAC-region action team to flawlessly execute all elements on the day of the event.
We worked with our MAGNET Global agency network to identify a Jakarta-based photographer and videographer to capture photos and footage of the event, as well as assets at nearby commercial laundry stores that enabled us to build APAC-relevant content for future promotions in the region.
What made the execution of this event a noteworthy success was the close collaboration of PR team members across the globe. It's a powerful example how a Milwaukee-based agency can seamlessly execute a PR plan anywhere in the world.
Nearly 10% of the publications we contacted ran a story on the event, including two highly important commercial laundry outlets. We were also able to get seven key distributors to attend the event and captured it all in photo and video to craft post-engagement assets.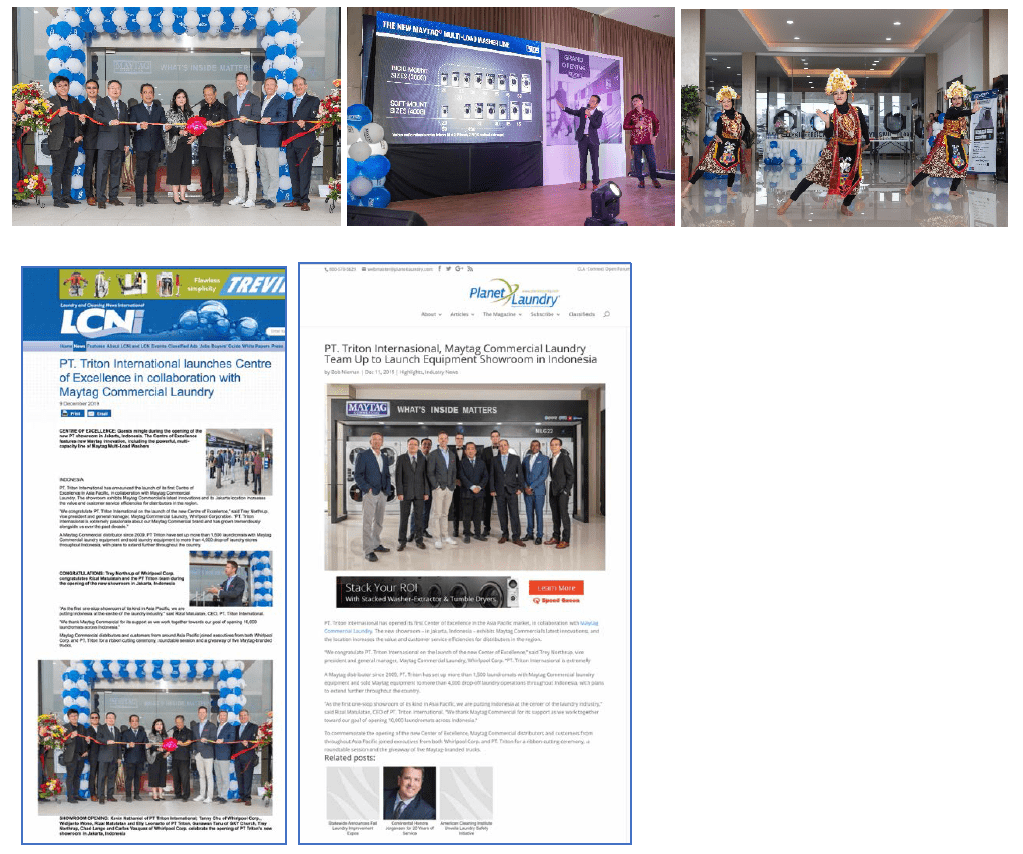 (Top: Images of the distributor event in Jakarta, Indonesia
Bottom: Press clippings from prominent trade publications)
Award of Excellence – Programs, Social Media, "WEDC Wisconsin Stories"
Our strategy for execution was storytelling. Using the highly sensory and engaging power of video enabled us to bring viewers directly into the story and let them experience all that Wisconsin has to offer.
We created a new Wisconsin Stories video every month, each introducing out-of-state millennials to an interesting side of Wisconsin they likely never imagined, like surfing on Lake Michigan, visiting the country's first solar-powered coffee roastery and unearthing a never-heard-before Bob Dylan song.
This storytelling social strategy enabled us to successfully meet all campaign objectives, which included increasing awareness of the benefits of living and working in Wisconsin, broadening the positive perceptions of the state and creating an authentic connection with millennials.
The success of the campaign can be summed by the following:
Three of the videos earned more than 1 million impressions
The high engagement on the Wisconsin Stories organic Facebook posts led to 10x more impressions per post than any other content posted
Several Wisconsin Stories videos gained the attention of earned media outlets, including a national story on RollingStone.com and stories in regional publications like Volume One magazine
Year-over-year sessions on the Wisconsin Stories page on InWisconsin.com nearly doubled
The high popularity of the Wisconsin Stories video posts resulted in a 171% year-over-year increase in Facebook followers
(Left: Example of a Wisconsin Story
Right: A story that was picked up by Rolling Stone)
Media contact: Allysa Defatte, 414.244.0210, [email protected]
ABOUT NELSON SCHMIDT INC.
We Deliver Customers.® Nelson Schmidt Inc. is an independent full-service marketing agency with offices in downtown Milwaukee and Madison, Wisconsin. The agency is one of the Top 200 Marketing Agencies of 2020 according to Chief Marketer and serves U.S. and international clients within select considered purchase industries. Nelson Schmidt is a member of MAGNET, the Marketing & Advertising Global Network, ANA and PRSA. For more information visit NelsonSchmidt.com.