City Nation Place Awards and The Drum B2B Awards nominate Nelson Schmidt as finalist in three key categories
MILWAUKEE – Oct. 16, 2018 – Nelson Schmidt, Inc., a leading full-service marketing agency, has been recognized globally by two major industry organizations, City Nation Place and The Drum, for its client work with the Wisconsin Economic Development Corporation (WEDC) and Change Healthcare. Nelson Schmidt's work has received a total of three award nominations including:
Best Communications Strategy for WEDC's "Think-Make-Happen In Wisconsin" by the City Nation Place Awards.
Best Website – Corporate/Brand for WEDC's "In Wisconsin" website by The Drum B2B Awards.
Best Brand Campaign for Change Healthcare's "Inspiring Better" brand campaign by The Drum B2B Awards.
"We are thrilled that Nelson Schmidt's work has been internationally recognized as a finalist in the City Nation Place Awards and The Drum B2B Awards," said Dan H. Nelson, Jr., president and CEO, Nelson Schmidt. "Not only are we the only agency from Wisconsin represented in these major industry awards, but these recognitions demonstrate our team's ability to deliver globally significant work. To see our campaigns honored by these industry experts also validates the strong outcomes we deliver for our clients."
City Nation Place Awards – Best Communications Strategy Finalist
Nelson Schmidt's work with WEDC for "Think Make Happen In Wisconsin" provides a single, effective brand platform representing Wisconsin's various regions, industries, economic assets, natural resources and cultural attributes in order to help attract and retain talent and businesses in the state.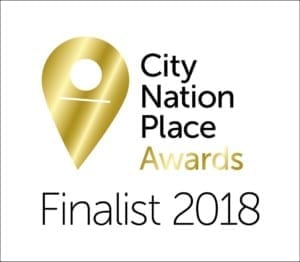 The finalists have been announced following a record year for the number of place branding and destination marketing entries received. Other finalists include locations as diverse as Cape Town, Scotland, Liverpool, Quebec and Puerto Rico. The winners of the 2018 City Nation Place Awards will be announced at the City Nation Place Global conference on November 8 in London.
"The City Nation Place Awards were established to benchmark and celebrate communication campaigns and place brand strategies designed to engage citizens, attract investment, grow tourism and build the reputations for neighborhoods, towns, cities or nations around the world," said Clare Dewhirst, Founder and Director, City Nation Place. "I am pleased to see how many towns, cities and nations around the world are recognizing that place branding is about more than a logo and a slogan; and that a collaborative approach to place brand strategy can deliver real economic benefits."
The Drum B2B Awards – Best Brand Campaign and Best Website Finalists
The Drum's B2B Awards celebrates B2B's most daring marketing campaigns. Nelson Schmidt's "Inspiring Better" campaign launched Change Healthcare into a new healthcare IT category after it acquired another company in that industry.
Nelson Schmidt is also nominated for Best Website – Corporate Brand for the "In Wisconsin" website. This site's goal was to create a gateway to Wisconsin for in-state and out-of-state businesses and out-of-state talent.
"Being recognized alongside some of the biggest and best-known global agencies speaks volumes to the caliber of work we do at Nelson Schmidt," said Mike Frederick, Chief Creative Officer, Nelson Schmidt. "The competition in this award show is famously fierce and we're really proud to be recognized as having some of the best work in the world."
Other finalists competing for these accolades include national and international brands and agencies. Finalists will be judged by a panel of B2B experts from both agency and brands and winners will be announced at The Drum B2B Brave Awards on November 15 in New York City.
Media contact: Allysa Defatte, 414.244.0210, [email protected]
ABOUT NELSON SCHMIDT INC.
We Deliver Customers. ® Nelson Schmidt Inc. is an independent full-service marketing agency with offices in downtown Milwaukee and Madison, Wisconsin. The agency is one of the Top 200 Marketing Agencies of 2018 according to Chief Marketer and serves U.S. and international clients within select considered purchase industries. Nelson Schmidt is a member of MAGNET, the Marketing & Advertising Global Network, ANA and PRSA. For more information visit NelsonSchmidt.com.